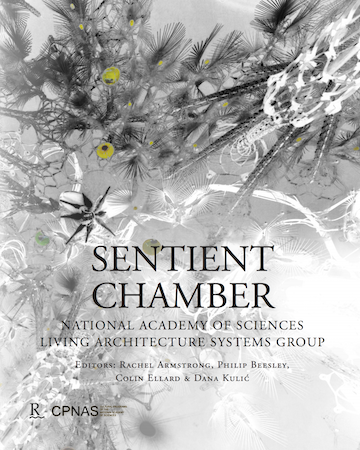 Sentient Chamber
Edited by Armstrong, Beesley, Ellard, & Kulić
National Academy of Sciences & Living Architecture Systems Group
This book documents the Sentient Chamber installation at the National Academy of Sciences, Washington. November 2, 2016 – May 31, 2016 Sentient Chamber is a new interactive installation exploring a revolutionary new kind of building, raising fundamental questions about how architecture might behave in the future. Might future buildings begin to know and care about us? Might they start to become alive? The installation is composed of towering transparent acrylic arches and flexible silicon, creating quilt-like patterns. Custom glasswork vessels and translucent filtering elements expand the skeleton to form hovering surfaces that interplay with shadow and light. Distributed sensors throughout the chamber are programmed with algorithms that mimic curiosity, giving Sentient Chamber the power to sense and perceive, reacting to the presence of visitors with delicate waves of light and soft murmuring sounds.
Sentient Chamber was created by a multidisciplinary group of architects, engineers, scientists, and artists from Canada, the U.S., and Europe working within the Living Architecture Systems Group, led by Philip Beesley, University of Waterloo. The exhibition was organized by Cultural Programs of the National Academy of Sciences (CPNAS) and The National Academies Keck Futures Initiative (NAKFI).
Essays, technical working drawings, and photographs of the complete installation and the process of construction are included.